HOW TO COLLECT EVIDENCE AFTER A CAR ACCIDENT
I was involved in an automobile accident caused by a person running a red light. My car was totaled and my spine was seriously injured. Mr. Stewart was my guardian angel. He took control of everything, gathering important information relevant to the case and helping me obtain the medical care I needed to recover from the many injuries I sustained in the automobile accident. He and his staff worked with the insurance companies obtaining for me a fair and reasonable settlement.
~ Gail Shaff
Injuries do more damage than just to your car, your bank account, and your body.
They damage your life.
They can keep you from going fly fishing with your father. They can keep you from brushing your daughter's hair. They can keep you from playing on your high school football team.
Maybe they take away a loved one forever.
I know that injuries take away all those little moments and more. And you can't get them back.
But I'm here to help you fight for something else — the justice you deserve.
I take the time to get to know you – your passions, your heartaches, your losses – so that I can tell the judge and jury your story. I'm going to ask the tough questions. I'm going to take a deep dive and look at things from every possible angle.
That's because we're not going to leave one penny on the table.
I make sure everyone understands the magnitude of damages our clients have suffered. I don't settle for a quarter or half justice – I want FULL justice.
And at the Stewart Law Firm, we wear a belt and suspenders to make sure that happens.
Step 2
We'll meet with you ASAP to hear your story and review your case.
Step 3
We'll get started making sure evidence is preserved, and we'll conduct investigations, focus groups, depositions and assemble all the evidence we need to build the strongest possible case. We'll call in experts and investigators as needed.
Step 4
FULL JUSTICE: You'll get the compensation you need and deserve
Our promise to you: you pay nothing unless we win your case.
Because we understand the value of a life, and we're dedicated to making sure you see full justice:
Free, no risk consultation
24/7 Availability
A firm recognized for excellence and backed by decades of legal experience
Thousands of cases handled
English + Spanish
Free, no risk consultation
24/7 Availability
A firm recognized for excellence and backed by decades of legal experience
Thousands of cases handled
English + Spanish
We work hard for you and that hard work has earned us recognition by many of the best in legal and medical associations. These affiliations can be your assurance that you'll receive some of the best in legal representation from The Stewart Law Firm.
See what others say about us
View all Practice Areas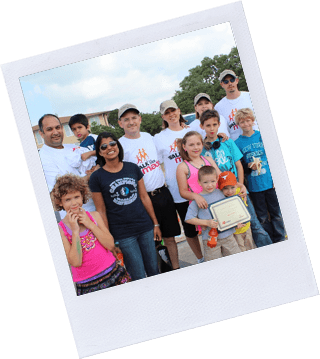 Making The Community A Safer Place
Through Our Injury Prevention Efforts
The Stewart Law Firm is proud to be a part of accident prevention programs. We strive to protect the injured in and out of the courtroom. Stephen W. Stewart, founder of The Stewart Law Firm, serves as Chairman on the Advisory Board for MADD-Texas and sponsors numerous foundations in their missions to raise awareness for the greater good.
Learn More About Our Community Involvement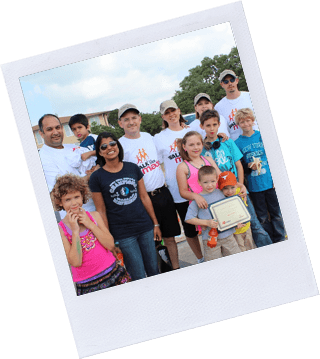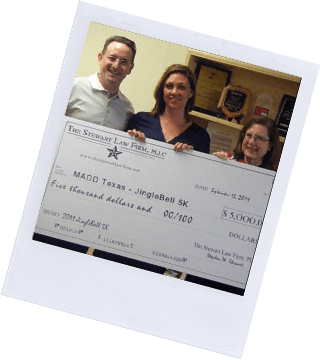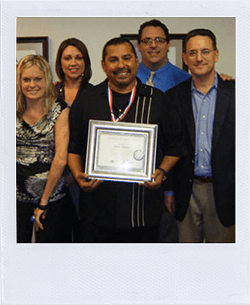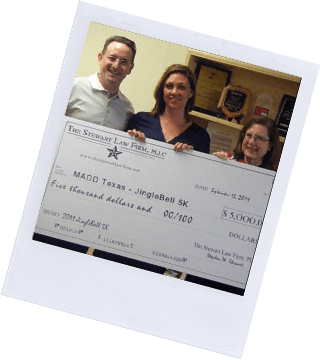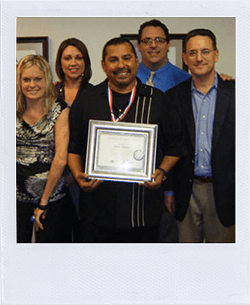 Austin Personal Injury Attorney
Contact The Stewart Law Firm, PLLC
Nothing is more important to us at The Stewart Law Firm, PLLC than helping injured individuals get their lives back on track. A negligence-related injury can throw anyone's life out of control, causing them great pain and financial strain. This is why we strive to collectively deliver legal services that are of the highest caliber. If someone else's negligent or reckless actions have caused you harm, our Austin personal injury attorney can fight to ensure your rights are protected.
Why choose The Stewart Law Firm, PLLC:
We have represented thousands of accident victims
Our services are available 24/7 – you can call day or night
We accommodate English and Spanish speaking clients
We don't charge any fees unless we win your case
Send us some details about your case below: